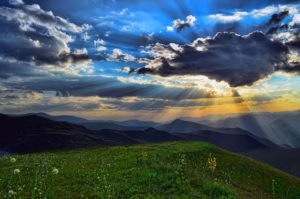 Some think that Israel and the physical land is the promise through Abraham, but that's not it at all. That's not the promise. Abraham was looking forward to the city that has foundations, whose designer and builder is God. (Heb 11:10) It's heaven that he was looking forward to.
It's not about some physical land. That land was just a picture (a type or shadow of the reality) of heaven, the place where we dwell with God in peace without having all the separation that all the walls and curtains were from the holy-of-holies in the earthly temple. It's not about the way back to that picture. It's about the way back past that cherubim with that flaming sword. (Gen 3:24) Back to that tree of life, to eternal life. That's what we see in Revelation 22:2,14,19.
 What is the way? (The Hebrew is 'derek') It's the same word in Isaiah 40:3
A voice cries: "In the wilderness prepare the way of the LORD; make straight in the desert a highway for our God
We see in Christ's announcement in John 14:6
 "I am the way, and the truth, and the life. No one comes to the Father except through me." 
We see that Christ also declares that the whole bible is about Him: 
"You search the Scriptures because you think that in them you have eternal life; and it is they that bear witness about me"
So as we search the scriptures, we should see that it's about the way, back to God the Father, not in a probationary status the way Adam was, but with eternal life secured by Christ's obedience and sacrifice on our behalf. Christ's life, Christ's death, Christ's resurrection, and ascension, and exaltation. 
Christ said He has gone to prepare a place for us: 
"And if I go and prepare a place for you, I will come again and will take you to myself, that where I am you may be also."
That is nothing less than that city Abraham was looking for. That "city that has foundations, whose designer and builder is God" (Heb 11:10) 
So the promise to Abraham and His offspring, and in Christ, we are sons of God. We are Abraham's offspring. We are heirs according to promise. We see this in Galatians 3:26-29  
"for in Christ Jesus you are all sons of God, through faith.For as many of you as were baptized into Christ have put on Christ.There is neither Jew nor Greek, there is neither slave nor free, there is no male and female, for you are all one in Christ Jesus. And if you are Christ's, then you are Abraham's offspring, heirs according to promise." 
So this is what the bible is all about. The way back to God as our beloved father, to that eternal city, the eternal dwelling place with God, secured. The bible is one true story of this redemption of a people in Christ, through Christ, who is the way the truth and the life.